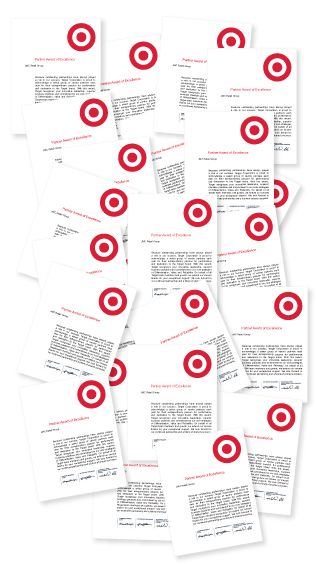 JMC has received Target's Partner of Excellence award for 24 of the last 25 years
We combine executive-level leadership with a team of sales, marketing and logistics professionals providing cross-functional assistance to both suppliers and retailers. We map out and lead our vendor partners through sell-in process and actively support programs from inception through completion.
Retail requires a complete understanding beyond the sale in the aisle or online. Partners need to know how they are winning and "the why." JMC's utilization of an Executive Dashboard reporting system provides our client & retail partners with a weekly in-depth status and analysis of the business, along with recommendations for sales maximization and inventory optimization. JMC also provides thorough seasonal and annual business reviews, arming our partners with the comprehensive story behind the program.
Through detailed modeling, along with proprietary reporting tools, analysis of inventory levels, production speed, logistics and product demand, JMC is able to take the lead in identifying potential supply chain issues and solve ordering and shipping problems when opportunities or challenges arise (and they always do).
JMC's sourcing, operations and system expertise are the backbone of our organization. Our menu of services provide seamless integration with top retailers to ensure that information flows between retailer and vendor in a clear, collaborative fashion.

Gathered from domestic and international design shows and ongoing marketplace intelligence, JMC can provide your company with the leadership and competitive vision to actively spot trends, uncover opportunities, and anticipate the next big thing.

JMC works with companies based all around the world. Our innovative & merchant minded team is always searching for strategic partnerships that help craft visionary ideas and products retailers want.
As category advisors, JMC provides unbiased analysis, interpretation and recommendations that increase category leadership and positively impact the bottom line.
Our analytics team is experienced with all forms of syndicated data, building reports that identify and support the growth of our client's market share & white space opportunity. Our focus on strategic planning and tactical execution has enabled our business partners to understand and develop categories that drive results.
Presentation & Merchandising
Where does your product fit best? Why would retail buyers and consumers be interested in purchasing it? We evaluate everything from the creative to the analytical data. We are like a personal trainer for your product. We're constantly looking for innovative ways to help you reach the next level. That means we spend hours studying your competition. And not just once. We complete a comprehensive competitive analysis every season.
JMC has developed a comprehensive "how to" vendor onboarding reference guide to help you as our partner. We strongly believe that if we prepare you on all levels, together we will be successful in building a long-term relationship with our retail partners and each other. The benchmarks are high, but the results will put you in a position for success and long-term viability.